Moza Mini P Max- 3 Axis Multi Device Gimbal Stabilizer
UPDATED VERSION OF MOZA MINI-P
3-Axis Cross-platform Gimbal
Better Shooting Experience
DESIGNED FOR MULTIPLE DEVICES 
MOZA Mini-P MAX is meticulously designed to be absolutely strong! Compatible with multiple devices, such as mirrorless cameras, action cameras, and mobile phones, it
has the power to capture brilliant content and bring creative shots to your life.
THREE-AXIS LOCK DESIGN
The new three-axis lock design keeps gimbal arms in place for easier balancing configurations. Each axis can be locked independently, so it's always ready for any task or project.
OPTIMIZED AXIS ARM
With its redesigned arm and strengthened metal body, Mini-P MAX provides better tactility and a marked improvement in performance.
PREMIUM COATED DESIGN
An all-new coated features extraordinary detail, creating a better tactile appeal and user experience.
PAYLOAD ITERATION WITH QUALITY
The maximum payload of the MOZA Mini-P MAX reaches 1kg, giving you a versatile device for stable and smooth shooting.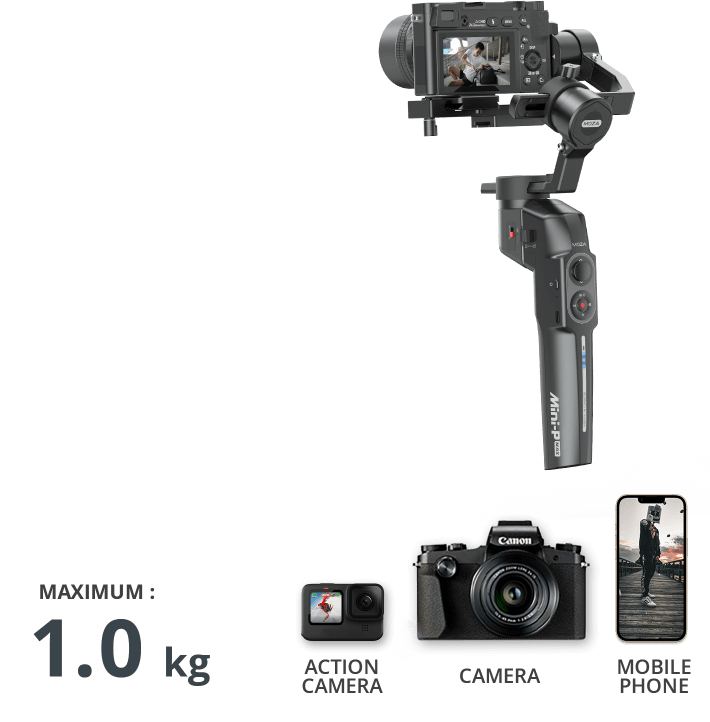 FOLDABLE
The innovative features in folded mode, make it as portable as it is powerful. It is not only a good partner for a trip shot but also convenient to record every exciting moment.
ADVANCED SHOOTING MODE
Inception Mode:
An exceptional way to create a dramatic twist of camera movement. Capturing the beautiful moment of the spatial transformer.